Since opening for its first guests in the summer of 2004, The Woods has become America's Premiere LGBTQIA+ camping resort. A favorite destination for guests from across the world to enjoy the fun and the endless activities the resort and surrounding area offers. Over the years, the facilities and amenities have been consistently maintained and upgraded to the standards our guests have come to enjoy. We are often complimented on our team because they have as much passion as our guests.
In an era when old methods of meeting people have dwindled, The Woods has risen. The LGBTQIA+ community has seen a steady decline in community establishments like bars, dance clubs, and social meetups. The new standard of social interaction is online through social media and apps. This artificial interaction is often based on filtered photos and exaggerated descriptions.
This is one of the biggest reasons LGBTQIA+ travel and resorts have become so popular. At The Woods, you are among like-minded people in an inviting atmosphere which encourages face-to-face interaction. You can choose from a variety of activities and places where you'll be among real live people! Talking, laughing, dancing and meeting new friends. You'll learn campers are from every walk of life with an incredible blend of backgrounds and careers. Our facilities and events are all-inclusive. You'll make new friends and maybe even meet your life partner.
We work hard to be more than just a campground. It's our guests who've built The Woods Community. And you're welcome to join.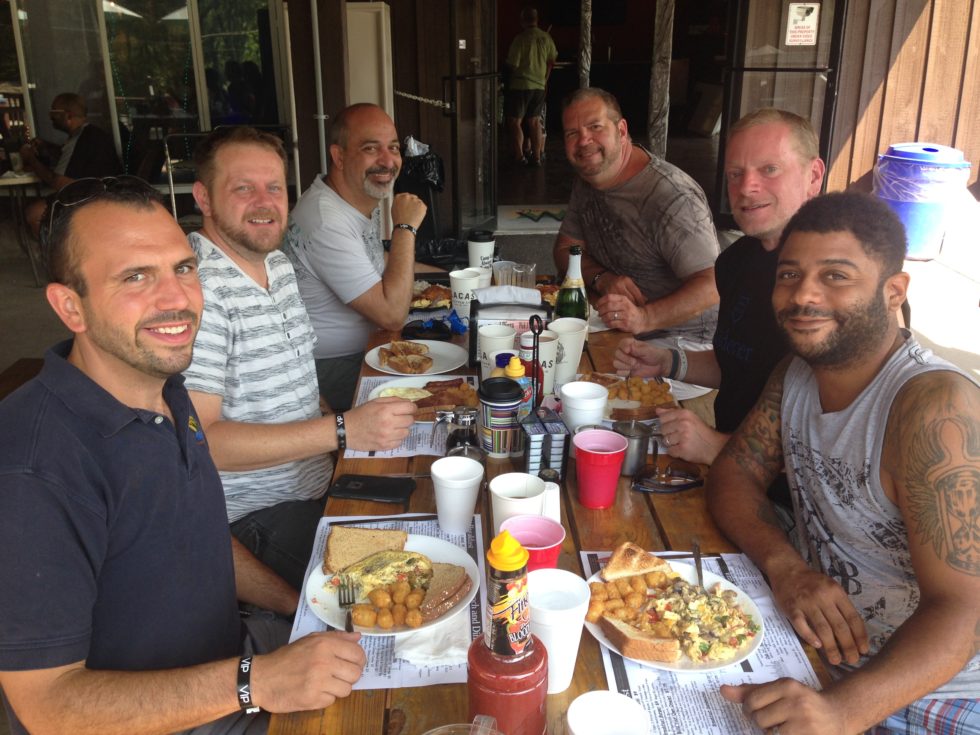 The Woods Campground provides a relaxed, beautiful setting for a diverse group of people from all over the country.
Our guests are roughly half singles – half couples, representing a broad mix of ages. Some camp alone, some camp with lovers, some camp with friends. It's everything you want it to be, and better than you'd ever expect.
One of the first places you'll visit upon your arrival is the Guest Services registration desk. This is in our Camp Store where you'll find all kinds of convenience items you'll need at The Woods, especially the stuff you probably forgot! We also sell camping essentials like firewood and ice.
The Clubhouse at The Woods

After you check-in and settle in your site, you'll definitely want to check out all the amenities offered in the Clubhouse area. Upstairs is the Guest Services desk, ATM and a full service store. Modern restrooms and showers, The Woods Café, and the dance club are located downstairs. The patio, lanai, and pool are full of activity during your stay, and the hot tubs are bubbling from the start to the end of the season.
The patio, lanai, and dance club come alive every weekend night with live DJs, plenty of music, and socializing. And, just off the side of the patio and poolside lunch cabana, is our bonfire area—where the flames seem to touch the stars!
Group activities, explore, paddle boat, nature trails
We also hold activities in our covered pavilion in the center of the camping area. This is a good place for group activities and will be available for your own groups to gather or organize a party.
This is all in close proximity to our 4-acre lake which you'll be able to explore by paddle boat or on our nature trails which start by wrapping themselves around the lake and into the surrounding woods.